Experienced Investors
Outshine invests strategically across the occupancy-critical sectors of life sciences, medical office, and technology focused assets nationally alongside strategic partners and institutional investors. Outshine's Principal has acquired and managed over 20 properties valued over $4 billion and 7 million SF in the past 15 years.
Breadth of investment experience spans multiple market cycles and assets classes inclusive of large corporate campuses.
Long-term relationships in development, leasing, and management of life science and medical office assets provide a unique competitive advantage.
Investment Strategy
Investment strategy of "secondary locations within primary markets" and "primary locations within secondary markets" capitalizes on supply constraints facing the life sciences industry, one of the fastest growing segments in the economy. This is achieved through off-market sourcing and accretive asset repositioning including strategic conversions from office to lab facilities. Gain first-mover advantage in an asset class with high barriers to entry and few investors with comparable industry knowledge and expertise.
Focus on markets with high intellectual capital, in particular with research-driven institutions where ample funding for R&D and a concentration of researchers are faced with inadequate facilities.
Strategically target second- and third-generation renovations, which benefit from previous tenant investment and speed to occupancy but are frequently overlooked by investors and have attractive basis.
Investment Parameters
Focus on life science, medical office, and knowledge-economy based assets serving the pharmaceutical, biotechnology, medical device, and medical fields.
Invest in both urban / suburban and university markets for both "R" (Research/ Lab) and "D" (Development / GMP / biomanufacturing) aspects of the vertical.
Core+, value-add and opportunistic investing.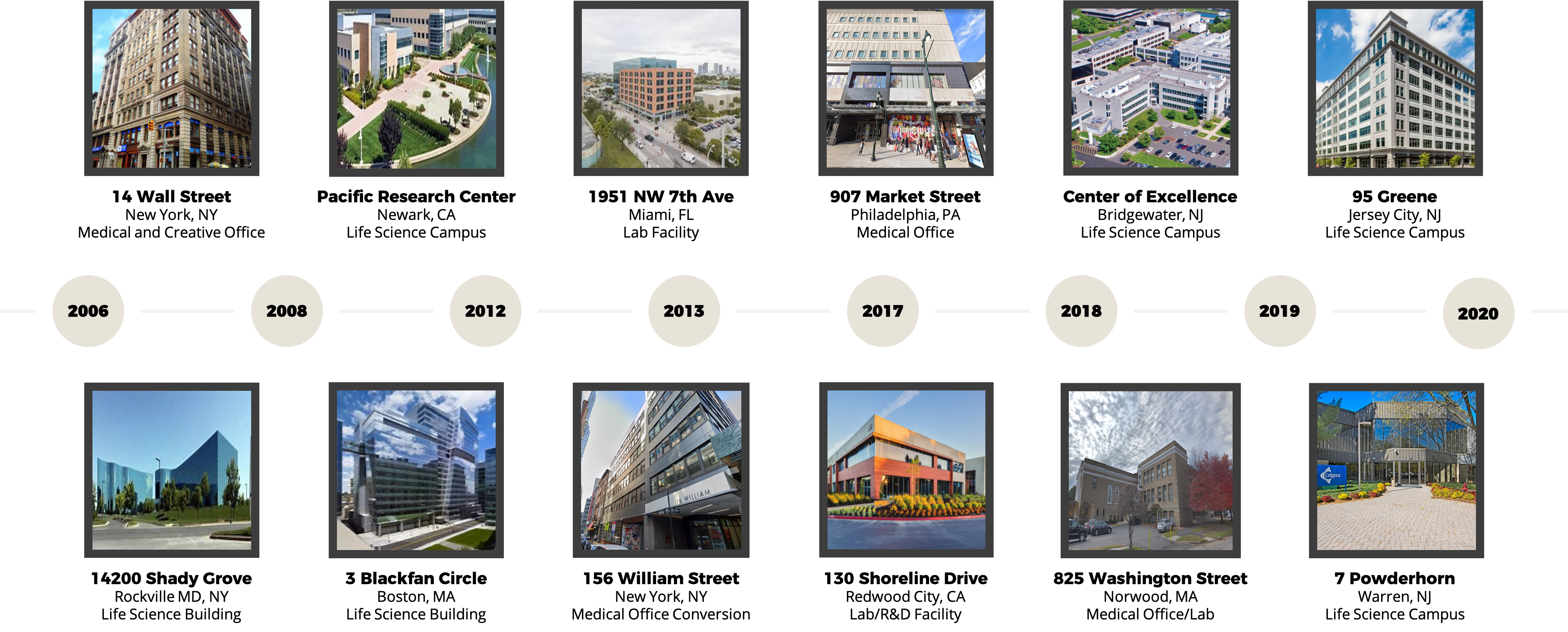 14 Wall Street
New York, NY
Medical and Creative Office
Center of Excellence
Bridgewater, NJ
Life Science Campus
14200 Shady Grove
Rockville MD, NY
Life Science Building
156 William Street
New York, NY
Medical Office Conversion
825 Washington Street
Norwood, MA
Medical Office/Lab
Pacific Research Center
Newark, CA
Life Science Campus
907 Market Street
Philadelphia, PA
Medical Office
95 Greene
Jersey City, NJ
Life Science Campus
3 Blackfan Circle
Boston, MA
Life Science Building
130 Shoreline Drive
Boston, MA
Life Science Building
7 Powderhorn
Warren, NJ
Life Science Campus
* All properties acquired while at Capstone Equities, Thor Equities, and Biomed Realty Trust (Blackstone)